Date: June 6th, 2017
Anadolu Efes: 65 - Beşiktaş Sompo Japan: 91
Hosting Beşiktaş Sompo Japan at the semifinal match of Spor Toto Basketbol Super League Play-off, Anadolu Efes lost 91-65. Anadolu Efes was trailing 52-33 at the halftime of the match. After this score, Anadolu Efes said farewell to the play-offs after trailing 3-1.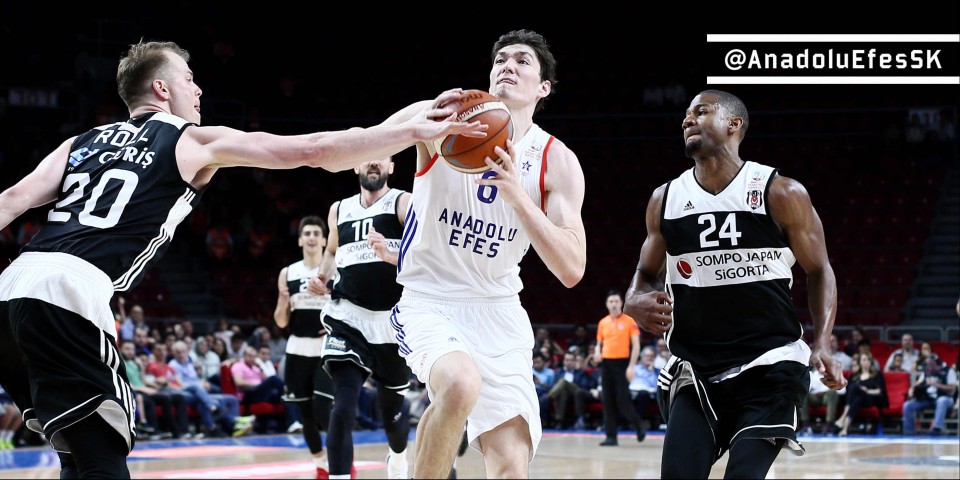 Starting the match with Granger, Cedi, Paul, Brown, and Dunston, Anadolu Efes's first points were shot by Brown. After Dunston and Paul's points was contributed by Cedi's and Brown's points and our team brought the score to 13-16 at the 7th minute. Brown scored three more points and brought the score to 16-18 at the 7:30, then in the remaining 2-minute duration our team couldn't score and finished the first 10 minutes trailing 26-16. Starting the second quarter, the first 2 minutes passed quietly for our team, then with Dunston's layup the score was brought to 18-30 at the 12th minute. Heurtel's continuing points and two three-pointers brought the score to 24-32 at the 13:30, then at 14:30 the score was set to 24-38 and thus coach Perasovic called for a time-out. After the time-out Cedi's layup and Paul's three-pointer our team brought the score to 29-42 at the 17th minute. Cedi's layup and Thomas's two points from the free-throw brought the score to 33-47 at the last minute of the quarter. Then Anadolu Efes was trailing at the end of the quarter when our team couldn't score within the last minute: 33-52.
Starting the second half with Brown and Cedi's points, Anadou Efes brought the score to 40-56 at the 22:30 with Granger's 2 points from the free-throw. At 25th minute the score was set to 40-62, then Dunston's layup at 25:30 brought the score to 42-62. Our team couldn't score after this minute and was trailing 70-42 at the end of the third quarter. Starting the final quarter with Dunston's 2 and Thomas's 1 points from the free-throw, our team was trailing 70-45 at the 31st minute. With Cedi's three points, the score table was set to 48-75 at the 33rd minute, then Dunston's points brought the score to 50-79 at the 34th minute. Remaining duration Anadolu Efes scored with Brown, Heurtel and Paul but couldn't close the score difference and lost the game with the score of 91-65.
Anadolu Efes

65

#
Player
Min
Pts
2P
3P
FT
OR
DR
R
A
St
To
B
F
3
Oğulcan Baykan
00:00
0
0
0
0
0
0
0
0
0
0
0
0
4
Doğuş Balbay
17:57
0
0 / 2
0 / 2
0 / 0
3
0
3
2
1
1
0
2
5
Derrick Brown
32:49
11
5 / 8
0 / 1
1 / 1
3
1
4
1
0
2
1
2
6
Cedi Osman
34:58
12
4 / 5
1 / 6
1 / 3
0
5
5
1
2
3
0
3
9
Samet Geyik
00:00
0
0
0
0
0
0
0
0
0
0
0
0
11
Berk Demir
00:00
0
0
0
0
0
0
0
0
0
0
0
0
15
Jayson Granger
19:41
2
0 / 2
0 / 4
2 / 2
0
1
1
0
0
3
0
5
31
Thomas Heurtel
23:06
15
3 / 6
3 / 7
0 / 0
0
2
2
5
0
6
0
3
32
Can Maxim Mutaf
00:00
0
0
0
0
0
0
0
0
0
0
0
0
33
Brandon Paul
24:18
9
0 / 2
2 / 5
3 / 8
2
5
7
0
2
2
0
2
42
Bryant Dunston
32:54
13
5 / 7
0 / 0
3 / 6
5
2
7
1
0
1
2
3
1
Deshaun Thomas
14:17
3
0 / 1
0 / 2
3 / 4
2
1
3
0
1
0
0
2
Beşiktaş Sompo Japan

91

#
Player
Min
Pts
2P
3P
FT
OR
DR
R
A
St
To
B
F
5
Muratcan Güler
14:30
0
0 / 1
0 / 1
0 / 0
0
1
1
0
2
0
0
4
7
şafak Edge
03:41
0
0 / 0
0 / 1
0 / 0
0
0
0
0
0
1
0
0
10
Erkan Veyseloğlu
17:20
8
2 / 5
0 / 1
4 / 4
1
2
3
3
2
1
0
3
15
Vladimir Stimac
22:29
18
7 / 9
0 / 0
4 / 4
3
9
12
1
1
1
0
0
19
Michael Jovan Thompson
24:35
12
2 / 3
2 / 4
2 / 2
0
0
0
1
0
1
0
2
20
Michael Brandon Roll
27:06
22
3 / 5
4 / 6
4 / 4
0
1
1
4
1
1
0
2
21
Sertaç şanli
14:04
10
2 / 2
1 / 1
3 / 4
3
2
5
0
1
2
0
4
24
Darryl Eugene Strawberry Jr.
23:08
8
3 / 7
0 / 2
2 / 2
0
5
5
4
1
1
0
2
25
Kenan Sipahi
15:25
5
1 / 2
0 / 1
3 / 4
0
2
2
4
0
0
0
4
34
Kyle Jordan Weems
30:01
8
4 / 8
0 / 1
0 / 0
0
4
4
1
3
1
0
2
37
Ilkan Karaman
03:27
0
0 / 0
0 / 0
0 / 0
0
0
0
0
0
0
0
1
65
Muhammed Doğan şenli
04:14
0
0 / 0
0 / 0
0 / 0
1
1
2
0
0
1
0
0