Date: February 23rd, 2018
Anadolu Efes: 70 - Zalgiris Kaunas: 86
Hosting Lithuania's Zalgiris Kaunas team in the 23rd-week match Turkish Airlines Euroleague, Anadolu Efes lost the game with the score of 86-70. Anadolu Efes was trailing with the score 45-36 at the halftime of the match that has been played at Sinan Erdem Sports Arena.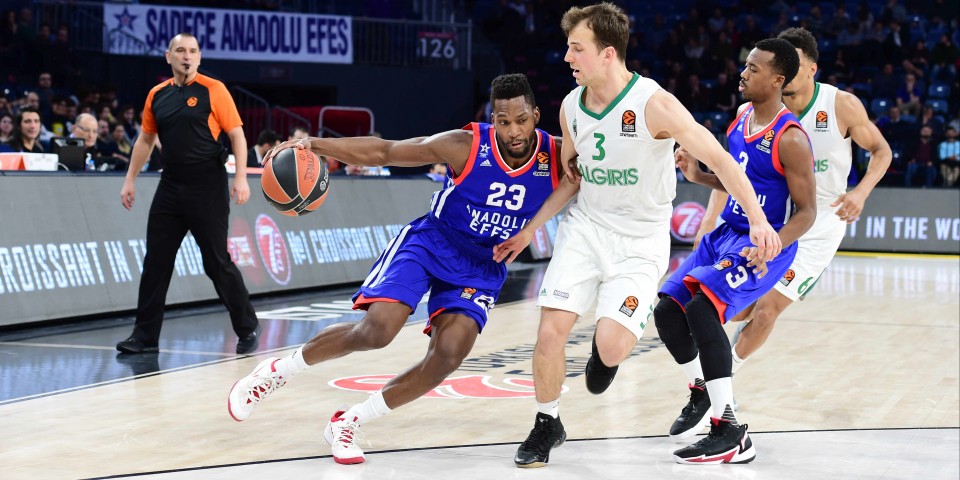 Starting the match with McCollum, Muhaymin, Douglas, Motum, and Dunston, Anadolu Efes's first point was three-points scored by Motum. In the first minutes, Dunston and Motum's underneath points were contributed by Douglas's three-pointer and our team was 16-11 ahead in the 6th minute. Remaining duration after Brown and Dunston's points our young player Muhaymin's first basket set the score of the first half: 23-21. Starting the second quarter with Stimac's points, Anadolu Efes passed the 12th minute 27-26 ahead. At the 15th minute the score table was set to 27-36 and so our coach Ergin Ataman called a time-out. Returning from the time-out McCollum and Motum scored a 7-1 mini-series and brought the score to 34-37. Remaining 3:30-minute duration Douglas scored a basket and our team finished the first half trailing 45-36.
Starting the second quarter our first point was scored by Douglas, then with McCollum's point at the 22nd minute set the score to 40-47. In these minutes Dunston and McCollum scored and our team brought the score to 57-49 at the 26th minute. With McCollum's three-pointer at the 27th minute the score table was set to 52-60, then Motum's layup brought the score to 54-62 in the last 2 minutes of the quarter. Remaining 2-minute duration Muhaymin scored 2 points and our team was trailing 68-56. Starting the final quarter with McCollum's teardrop, our team brought the score table to 58-68. With Brown and Birkan's three-pointer at the 35th minute, the score was set to 64-81, then with Dunston's layup Anadolu Efes brought the score to 66-81 at the last 3:45 minutes. Remaining duration Anadolu Efes scored with Stimac but couldn't close the score difference and lost the match with the score of 86-70.
Anadolu Efes

70

#
Player
Min
Pts
2P
3P
FT
OR
DR
R
A
St
To
B
F
3
Errick McCollum
31:59
14
4 / 8
1 / 3
3 / 4
0
3
3
3
0
5
1
2
5
Derrick Brown
21:42
5
1 / 5
1 / 1
0 / 0
1
1
2
2
0
2
1
3
6
Yiğitcan Saybir
6:44
0
0 / 1
0 / 1
0 / 0
0
0
0
1
0
1
0
2
8
Birkan Batuk
20:59
3
0 / 1
1 / 2
0 / 0
1
0
1
0
0
0
0
3
10
Onuralp Bitim
9:40
0
0 / 1
0 / 0
0 / 0
0
1
1
1
0
3
0
0
11
Berk Demir
1:38
0
0 / 0
0 / 0
0 / 0
0
0
0
0
0
0
0
1
12
Brock Motum
23:26
12
3 / 7
2 / 2
0 / 0
1
3
4
0
1
1
0
1
15
Vladimir Štimac
6:58
8
1 / 1
0 / 0
6 / 6
0
2
2
0
2
1
1
2
22
Muhaymin Mustafa
18:54
4
2 / 2
0 / 2
0 / 0
0
0
0
1
0
2
0
2
23
Toney Douglas
30:25
13
1 / 4
3 / 6
2 / 2
1
1
2
5
2
2
0
4
42
Bryant Dunston
27:35
11
5 / 8
0 / 0
1 / 1
3
5
8
1
1
0
3
3
Zalgiris Kaunas

86

#
Player
Min
Pts
2P
3P
FT
OR
DR
R
A
St
To
B
F
0
Davies, Brandon
19:42
12
3 / 8
0 / 0
6 / 6
1
3
4
2
4
2
0
2
3
Pangos, Kevin
29:57
10
1 / 3
2 / 4
2 / 2
2
0
2
6
1
3
0
1
6
Toupane, Axel
16:49
4
1 / 3
0 / 2
2 / 4
0
1
1
2
0
2
0
3
13
Jankunas, Paulius
12:48
2
1 / 3
0 / 1
0 / 0
0
3
3
1
0
1
0
4
19
Sajus, Martynas
01:38
2
1 / 1
0 / 0
0 / 0
0
0
0
0
0
0
0
1
20
Masiulis, Gytis
01:38
0
0 / 0
0 / 0
0 / 0
0
0
0
0
1
0
0
0
21
Milaknis, Arturas
17:41
11
0 / 1
3 / 3
2 / 2
0
0
0
0
0
0
0
1
22
Micic, Vasilije
26:26
11
4 / 8
1 / 1
0 / 1
0
4
4
6
3
3
0
2
30
White, Aaron
25:36
15
6 / 6
0 / 0
3 / 3
0
4
4
2
1
1
0
2
44
Kavaliauskas, Antanas
12:07
4
2 / 3
0 / 0
0 / 0
1
1
2
0
0
0
0
3
66
Valinskas, Paulius
08:00
7
1 / 1
1 / 1
2 / 2
0
0
0
1
1
0
0
0
92
Ulanovas, Edgaras
27:38
8
4 / 6
0 / 0
0 / 0
0
5
5
2
1
1
0
1