Date: December 20th, 2016
Anadolu Efes: 71 - Zalgiris Kaunas: 84
Hosting the Lithuanian side Zalgiris Kaunas in the 13th week match of Turkish Airlines Euroleague, Anadolu Efes was defeated 71-84. Anadolu Efes was trailing 30-44 at the halftime of the match, played at Abdi İpekçi Arena.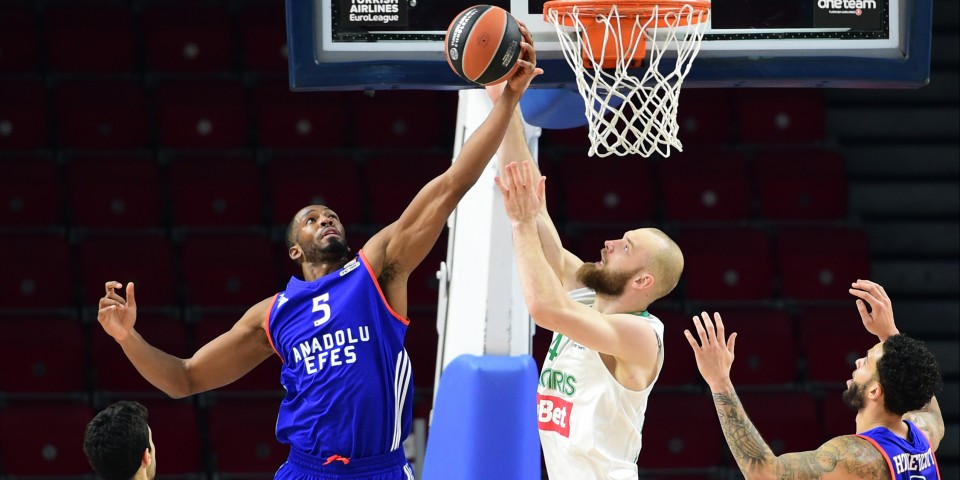 Starting the match with Heurtel, Granger, Cedi, Brown and Dunston, Anadolu Efes's first points were scored by Dunston with a slam dunk. While both teams had trouble scoring in the initial moments of the match, Efes was trailing 2-6 past the fifth minute. As the score was tied 6-6 in the sixth minute with Cedi and Brown's points, Heurtel intercepted the ball and got an easy layup, pulling Efes up at 6:30 for the first time in the match: 8-6. Trailing 11-12 with two minutes to play in the quarter after Thomas's three-pointer, Anadolu Efes's new signing Paul was subbed in. With Honeycutt's field goal, Efes was trailing 13-16 at the end of the first 10 minutes of the game. Starting the second quarter with Honeycutt's three-pointer, Anadolu Efes was trailing 16-20 in the 12th minute. As the score was 16-25 in the 13th minute, Perasovic called a timeout. With a 5-0 scoring run from Brown and Doğuş after the timeout, Efes was behind 21-25 into the 14th minute. As Honeycutt's field goal was followed by captain Doğuş's second three-point field goal, the margin went down to three points in the 16th minute and Zalgiris Kaunas called a timeout: 26-29. With the score 26-37 within two minutes after the timeout, four points by Heurtel and Dunston in the final moments of the half helped Anadolu Efes towards a halftime score of 30-44.
Opening the score sheet in the second half with a three-point field goal, Brown made it 33-44. Getting two free throws by Dunston and three more points with Brown, Anadolu Efes was behind 38-49 at 23:30. With four points by Heurtel followed by a three-pointer by Thomas, the score was 45-57 at 26:30. After Dunston's reverse dunk and Honeycutt's layup, Efes was down 49-64 within the final minute of the quarter. Getting a field goal by Omic in the remaining one minute, Anadolu Efes was trailing 51-66 while heading into the final quarter. Starting the final quarter with four points by Brown, Anadolu Efes was trailing 55-68 at 32:30. Behind 64-78 with 3:30 minutes to play following Brown and Heurtel's points, Anadolu Efes could not bring the margin down any further and left the court defeated 71-84.
Anadolu Efes

71

#
Player
Min
Pts
2P
3P
FT
OR
DR
R
A
St
To
B
F
1
Deshaun Thomas
17:08
6
0 / 1
2 / 7
0 / 0
0
0
0
2
1
1
0
2
2
Tyler Honeycutt
26:57
12
3 / 6
1 / 5
3 / 4
3
5
8
0
0
1
0
2
4
Doğuş Balbay
18:37
6
0 / 0
2 / 3
0 / 0
1
1
2
1
1
0
0
3
5
Derrick Brown
28:42
16
6 / 9
1 / 1
1 / 3
1
2
3
1
1
0
1
0
6
Cedi Osman
18:29
3
1 / 2
0 / 4
1 / 2
0
1
1
1
4
2
0
4
9
Samet Geyik
00:00
0
0
0
0
0
0
0
0
0
0
0
0
10
Furkan Korkmaz
00:00
0
0
0
0
0
0
0
0
0
0
0
0
15
Jayson Granger
23:26
0
0 / 1
0 / 3
0 / 0
0
1
1
4
0
2
0
1
23
Alen Omić
7:44
2
1 / 1
0 / 0
0 / 0
0
1
1
0
0
0
0
0
31
Thomas Heurtel
29:08
18
5 / 6
0 / 3
8 / 9
0
2
2
4
4
3
0
5
33
Brandon Paul
2:27
0
0 / 1
0 / 1
0 / 0
0
0
0
0
0
1
0
1
42
Bryant Dunston
27:22
8
3 / 6
0 / 0
2 / 4
4
1
5
0
1
2
0
2
Zalgiris Kaunas

84

#
Player
Min
Pts
2P
3P
FT
OR
DR
R
A
St
To
B
F
3
Pangos, Kevin
23:50
15
0 / 3
5 / 6
0 / 0
1
2
3
3
1
3
0
0
4
Lekavicius, Lukas
17:43
6
2 / 2
0 / 1
2 / 2
0
0
0
1
0
4
0
2
6
Valinskas, Paulius
01:55
2
0 / 0
0 / 1
2 / 2
0
0
0
0
0
0
0
0
9
Westermann, Leo
21:18
4
2 / 2
0 / 1
0 / 0
0
0
0
6
1
4
0
3
10
Seibutis, Renaldas
23:01
8
3 / 6
0 / 2
2 / 2
0
4
4
0
1
0
0
4
12
Motum, Brock
25:30
11
3 / 4
1 / 3
2 / 2
1
4
5
1
0
1
0
1
13
Jankunas, Paulius
17:06
8
4 / 5
0 / 1
0 / 0
0
2
2
3
1
2
1
3
15
Javtokas, Robertas
02:45
0
0 / 0
0 / 0
0 / 0
0
1
1
0
0
1
0
0
21
Milaknis, Arturas
13:09
3
0 / 0
1 / 3
0 / 0
3
1
4
1
0
1
0
2
23
Lima, Augusto
17:46
7
3 / 5
0 / 0
1 / 1
4
3
7
0
2
0
0
2
44
Kavaliauskas, Antanas
13:35
6
3 / 5
0 / 0
0 / 0
0
4
4
2
1
0
0
3
92
Ulanovas, Edgaras
22:08
14
5 / 5
0 / 1
4 / 6
0
2
2
2
0
0
0
3