Date: March 2nd, 2018
AX Armani Exchange Olimpia Milan: 77 - Anadolu Efes: 64
Hosted by Italy's AX Armani Exchange Olimpia Milan team in the 24th-week match Turkish Airlines Euroleague, Anadolu Efes lost the game with the score of 77-64. Anadolu Efes was trailing with the score 44-29 at the halftime of the match that has been played at Mediolanum Forum.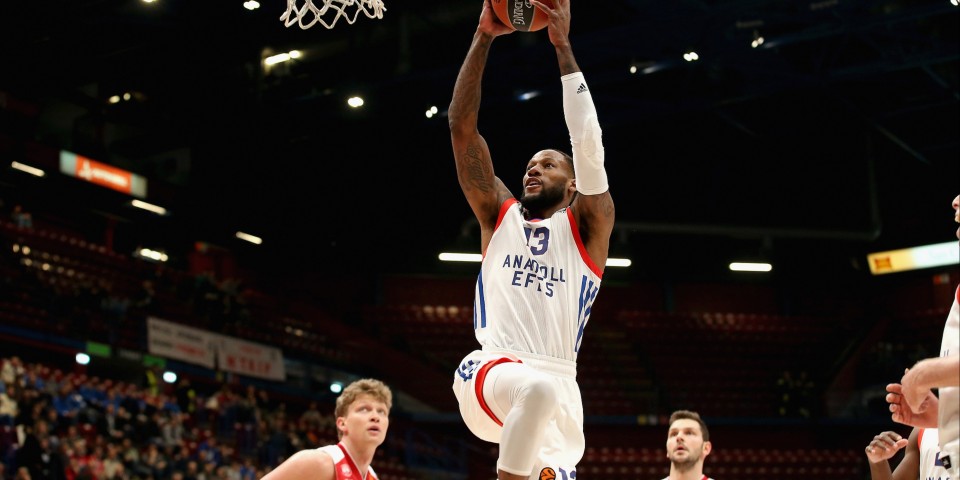 Starting the match with Doğuş, Douglas, Weems, Motum, and Dunston, Anadolu Efes's first points were scored by Motum and Dunston duo and our team was 5-3 ahead in the second minute. Our new team member Weems's points in the 5th minute set the score table to 13-8, then Stimac and Brown contributed into scoring and set the score to 17-12 at the 8:30. Remaining duration our team couldn't score and finished the first 10 minutes with a balanced score of 17-17. Starting the second quarter with Brown's basket, our team set the score to 22-21 with Stimac's underneath point and was trailing. With captain Doğuş's 4 points at the 15th minute the score table was set to 25-31, then Weems point at the 15:30 brought the score to 27-33. In the last minute of the quarter, Dunston scored 2 points and our team was trailing 44-29.
Starting the second half with Doğuş's point at the 22nd minute, the score was set to 32-44. With Motum's point, Weems scored his 11th point in the game and became the first player to reach the second-digits and at 23:30 the score table was set to 36-49. After Dunston and McCollum's points the score was set to 39-51 at the 25th minute, then Weems scored another basket: 41-53. With Doğuş and Dunston's points at the 28th minute our team brought down the score difference to 10 points, and in the remaining duration couldn't score and finished the third quarter trailing 45-58. Starting the final quarter, our team couldn't score in the first minutes and passed the 34th minute trailing 65-45, then Stimac broke our silence in the quarter and scored 4 points at the 34:30 and set the score tablet o 49-65. With Weems and Stimac's points our team brought the score to 66-53 in the last 3:30 minutes of the match, then at the 27th minute McCollum scored a three-pointer and this was our first three-pointer throughout the entire game: 56-67. Remaining duration Stimac, Weems, and McCollum scored but couldn't close the score difference and Anadolu Efes lost the match with the score 77-64.
Anadolu Efes

64

#
Player
Min
Pts
2P
3P
FT
OR
DR
R
A
St
To
B
F
3
Errick McCollum
30:56
6
1 / 4
1 / 4
1 / 2
0
3
3
1
0
1
0
3
4
Doğuş Balbay
30:22
9
4 / 6
0 / 2
1 / 2
2
2
4
3
2
0
1
3
5
Derrick Brown
19:02
4
2 / 7
0 / 1
0 / 0
0
2
2
0
0
0
0
4
8
Birkan Batuk
9:57
0
0 / 0
0 / 1
0 / 0
0
1
1
0
0
0
0
1
10
Onuralp Bitim
00:00
0
0
0
0
0
0
0
0
0
0
0
0
11
Berk Demir
00:00
0
0
0
0
0
0
0
0
0
0
0
0
12
Brock Motum
20:58
4
2 / 2
0 / 2
0 / 0
1
5
6
2
0
1
0
2
13
Sonny Weems
30:03
19
9 / 13
0 / 2
1 / 3
1
5
6
2
1
4
0
3
15
Vladimir Štimac
17:04
12
6 / 8
0 / 0
0 / 0
2
4
6
1
0
0
0
3
22
Muhaymin Mustafa
2:12
0
0 / 0
0 / 0
0 / 0
0
0
0
0
0
0
0
0
23
Toney Douglas
16:30
0
0 / 1
0 / 1
0 / 0
0
0
0
2
0
1
0
1
42
Bryant Dunston
22:56
10
4 / 5
0 / 0
2 / 4
1
3
4
1
1
2
2
3
AX Armani Exchange Olimpia Milan

77

#
Player
Min
Pts
2P
3P
FT
OR
DR
R
A
St
To
B
F
0
Goudelock, Andrew
27:16
13
2 / 7
2 / 8
3 / 3
2
0
2
2
2
0
0
1
5
Micov, Vladimir
20:00
3
0 / 2
1 / 1
0 / 0
0
2
2
0
0
2
0
1
7
Pascolo, Davide
0
0
0 / 0
0 / 0
0 / 0
0
0
0
0
0
0
0
0
15
Tarczewski, Kaleb
19:49
6
1 / 2
0 / 0
4 / 6
1
3
4
0
0
1
0
5
19
Kuzminskas, Mindaugas
17:43
9
2 / 3
1 / 3
2 / 2
0
2
2
1
0
0
0
3
20
Cinciarini, Andrea
13:47
5
1 / 1
1 / 3
0 / 0
1
2
3
2
0
1
0
3
22
Cusin, Marco
0
0
0 / 0
0 / 0
0 / 0
0
0
0
0
0
0
0
0
23
Abass, Awudu
16:06
2
1 / 2
0 / 1
0 / 0
2
4
6
0
1
0
0
1
24
M'baye, Amath
22:17
14
4 / 5
1 / 5
3 / 3
2
2
4
2
1
1
0
3
45
Bertans, Dairis
16:38
5
0 / 0
1 / 5
2 / 2
0
0
0
1
0
1
0
1
55
Jerrells, Curtis
26:13
13
4 / 6
1 / 5
2 / 2
0
1
1
5
1
0
0
0
77
Gudaitis, Arturas
20:11
7
2 / 4
0 / 0
3 / 6
3
7
10
1
1
1
2
1