Date: February 3rd, 2017
Critical win in Belgrade: 86-72
Playing on the road against Serbia's Crvena Zvezda at the 21st week match-up of Turkish Airlines Euroleague, Anadolu Efes won 86-72. Anadolu Efes was ahead 47-36 at the halftime of the match, played at Nikolic Arena.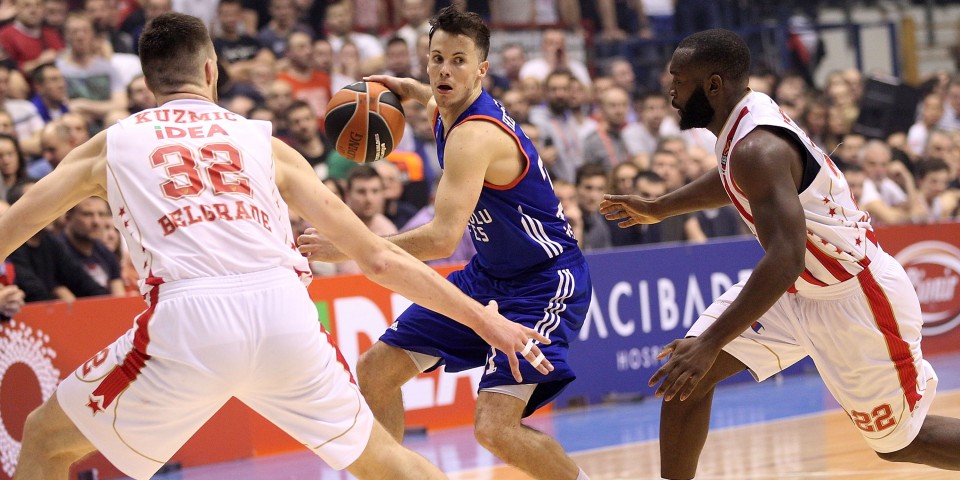 Starting the match with Granger, Paul, Cedi, Brown and Dunston, Anadolu Efes started the game with Brown's points. After passing the second minute ahead 5-2 with our American player's 5 points, Dunston brought the score to 7-4 by 2:30. After the points of the opponent's team Efes went into television time-out trailing 7-9, the sixth minute was passed with Granger's three-pointer: 10-11. Going into the last 2 minutes trailing 10-16, our team scored with Honeycutt and Kirk and lasted the first 10 minutes trailing 16-20. Starting the second period Heurtel scored consecutive 5 points and Efes reduced the difference to 1 point by the 11th minute: 21-22. While Efes was boosting speed, Thomas and Heurtel's lay-ups and Dunston's fancy dunk balanced the score by the 14th minute and the host team called for a time-out: 27-27. Returning from the time-out hosting team's score got a respond with Granger's three-pointer and took the lead by the 15th minute: 30-29. After seeing 5 points in our hoop the score became 30-34 by the 16th minute and Perasovic called for a time-out. After the time-out Brown, Dunston, Heurtel and Paul scored series of 15-0 Efes leaded the score 45-34 by the 19th minute. Remaining duration Efes responded to rival team's points with Brown and finished the first half ahead: 47-36.
Starting the second-half with Dunston, Heurtel and Brown's points Efes raised the score difference to 18 points: 54-36. This minute the rival team called for a time-out, though returning from the time-out Efes started with Dunston's point and leaded the score 56-38 by 22nd minute. After this minute our team had a hard time to score and by 27:30 the score table came to 56-50. By 29th minute Brown scored 3 points from the free-throw line and broke our seven minute silence: 59-50. After Cedi's fancy dunk Anadolu Efes leaded the score by the end of the period: 61-52. Starting the final-quarter our first score came from Thomas; Brown tipped Cedi's shoot and raised the score difference to 13 points by the 31st minute: 65-52. Efes scored with Cedi and Thomas's three individual point scores and raised the difference to 17 points by 32:30: 71-54. Our team continued to score with Thomas and brought the score to 81-62 by 37th minute. Remaining duration Anadolu Efes was leading the score table while Brown continued to score and the victory came with the score 86-72.
Anadolu Efes

86

#
Player
Min
Pts
2P
3P
FT
OR
DR
R
A
St
To
B
F
1
Deshaun Thomas
15:50
17
4 / 4
3 / 6
0 / 0
1
2
3
0
1
0
0
1
2
Tyler Honeycutt
23:26
2
1 / 2
0 / 1
0 / 0
0
5
5
3
3
1
1
1
4
Doğuş Balbay
3:20
0
0 / 1
0 / 0
0 / 0
0
0
0
0
0
0
0
1
5
Derrick Brown
31:32
20
8 / 15
0 / 0
4 / 4
3
8
11
2
2
1
0
1
6
Cedi Osman
21:46
6
1 / 4
1 / 4
1 / 2
1
3
4
2
1
1
0
2
9
Samet Geyik
00:00
0
0
0
0
0
0
0
0
0
0
0
0
15
Jayson Granger
26:30
6
0 / 1
2 / 4
0 / 0
0
4
4
4
1
2
0
2
31
Thomas Heurtel
30:11
12
3 / 4
2 / 5
0 / 0
1
0
1
15
1
2
0
3
32
Can Maxim Mutaf
5:25
0
0 / 1
0 / 1
0 / 0
0
1
1
0
0
0
0
1
33
Brandon Paul
9:22
3
0 / 2
1 / 3
0 / 0
0
1
1
0
1
1
0
3
42
Bryant Dunston
26:03
16
7 / 11
0 / 0
2 / 2
1
3
4
0
1
2
0
2
53
Alex Kirk
6:35
4
2 / 2
0 / 0
0 / 0
0
0
0
1
0
1
0
2
Kızılyıldız

72

#
Player
Min
Pts
2P
3P
FT
OR
DR
R
A
St
To
B
F
0
Wolters, Nate
21:25
12
5 / 7
0 / 1
2 / 2
0
3
3
4
0
0
0
3
2
Thompson, Deon
09:09
0
0 / 2
0 / 0
0 / 0
3
1
4
0
0
0
0
0
9
Mitrovic, Luka
24:33
6
3 / 5
0 / 0
0 / 0
0
4
4
0
0
0
1
2
10
Lazic, Branko
25:45
1
0 / 0
0 / 1
1 / 2
0
2
2
0
0
0
0
3
13
Dobric, Ognjen
01:22
0
0 / 0
0 / 0
0 / 0
0
0
0
0
0
0
0
0
19
Simonovic, Marko
35:21
17
5 / 7
1 / 6
4 / 5
1
4
5
2
0
1
0
2
20
Rakicevic, Petar
0
0
0 / 0
0 / 0
0 / 0
0
0
0
0
0
0
0
0
22
Jenkins, Charles
24:24
13
5 / 12
1 / 3
0 / 1
1
2
3
7
1
0
0
4
23
Guduric, Marko
13:51
5
0 / 0
1 / 3
2 / 3
1
1
2
3
0
4
0
1
24
Jovic, Stefan
13:19
2
1 / 2
0 / 0
0 / 4
1
0
1
2
1
4
0
0
32
Kuzmic, Ognjen
15:39
4
2 / 6
0 / 0
0 / 0
1
5
6
0
0
1
1
2
51
Bjelica, Milko
15:12
12
5 / 7
0 / 2
2 / 2
0
1
1
1
0
1
0
1