Date: November 17th, 2016
Fenerbahçe: 88 - Anadolu Efes: 80
Playing on the road against Fenerbahçe at the eighth week match-up Turkish Airlines Euroleague, Anadolu Efes was defeated 80-88. Anadolu Efes was trailing 42-43 at the halftime of the match, played at Ülker Arena.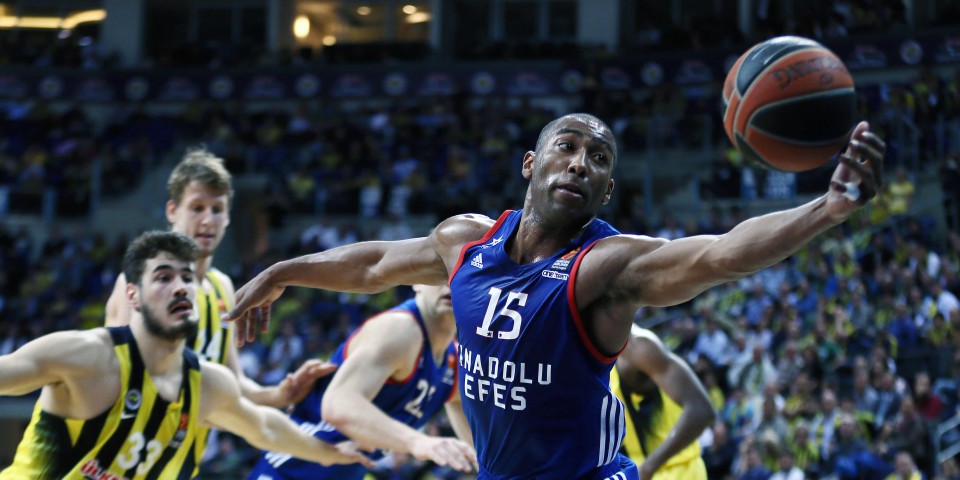 Starting the match with Granger, Cotton, Cedi, Brown and Dunston, Anadolu Efes pulled up 3-0 with Cotton's three-pointer. After a free throw by Dunston, Efes had points by Cedi and Granger, ahead 9-2 in the third minute. Following the opponent's scoring, Efes was trailing 11-9 during the TV timeout in the fifth minute. Scoring seven points after the timeout, Granger made it 16-12 in the seventh minute. Reaching 18 points with Dunston, Efes had points by Thomas and Granger, increasing the lead to eight points within the last minute of the quarter: 23-15. Getting a mid-range jumper with Honeycutt in the remaining one minute, Anadolu Efes finished the first 10 minutes ahead 25-17. As Thomas scored our first field goal in the second quarter, the score was 27-22 in favor of Anadolu Efes past the 12th minute. After Thomas got involved in those moments, Granger and Honeycutt also contributed while Efes was leading 36-28 past the 15th minute. When the opponent managed make it a one-point game at 16:20, coach Perasovic called a timeout. Getting six more points with Heurtel and Omic in the remaining 3:40 minutes after the timeout, Anadolu Efes went to the locker room trailing 42-43 at the halftime.
Scoring two field goals in the second half, Brown made it 46-45 in the 22nd minute. As Granger had five points, the score was tied in the 24th minute: 51-51. Putting out strong defense and forcing the opponent to rushed shots during these moments, Anadolu Efes made a 10-0 scoring run with Dunston and Cotton's fast-break points, pulling up by five points at 25:30: 56-51. Leading 59-56 with 1:30 minutes left in the quarter following three points by Brown, Efes got a slam dunk by Dunston in the remaining duration and was trailing 61-64 while heading into the final quarter. As the score was 61-69 after the first 1:20 minutes of the final quarter, Perasovic called a timeout. After four points by Heurtel following the timeout, Efes was trailing 65-71 past the 33rd minute. Behind 72-80 into the 36th minute with Cotton, Brown and Honeycutt's points, Efes cut the margin to six when Heurtel stole the ball and scored in the 37th minute: 74-80. Behind 76-83 with two minutes to play following Dunston's field goal, Efes got two points each by Honeycutt and Brown, and left the court defeated 80-88.
Anadolu Efes

80

#
Player
Min
Pts
2P
3P
FT
OR
DR
R
A
St
To
B
F
1
Deshaun Thomas
17:39
8
4 / 9
0 / 2
0 / 0
1
0
1
2
1
1
0
2
2
Tyler Honeycutt
29:33
9
2 / 4
1 / 2
2 / 2
2
6
8
2
2
2
2
1
4
Doğuş Balbay
5:58
0
0 / 0
0 / 0
0 / 0
0
0
0
0
0
0
0
1
5
Derrick Brown
27:50
8
3 / 6
0 / 1
2 / 6
5
5
10
7
2
1
0
2
6
Cedi Osman
10:27
3
0 / 1
1 / 3
0 / 0
1
1
2
1
1
0
0
1
7
Bryce Cotton
17:24
10
1 / 5
2 / 3
2 / 3
1
0
1
0
0
2
0
1
9
Samet Geyik
00:00
0
0
0
0
0
0
0
0
0
0
0
0
10
Furkan Korkmaz
00:00
0
0
0
0
0
0
0
0
0
0
0
0
15
Jayson Granger
32:39
19
6 / 9
2 / 7
1 / 1
1
4
5
3
1
0
0
3
23
Alen Omić
4:41
4
2 / 2
0 / 0
0 / 3
1
0
1
0
1
0
0
3
31
Thomas Heurtel
23:59
8
4 / 6
0 / 5
0 / 0
1
1
2
2
2
3
0
2
42
Bryant Dunston
29:50
11
5 / 7
0 / 0
1 / 2
3
3
6
1
0
0
0
3
Fenerbahçe Doğuş

88

#
Player
Min
Pts
2P
3P
FT
OR
DR
R
A
St
To
B
F
5
Hersek, Baris
00:04
0
0 / 0
0 / 0
0 / 0
0
0
0
0
0
0
0
0
8
Udoh, Ekpe
27:27
6
2 / 7
0 / 0
2 / 2
2
5
7
3
0
0
2
4
10
Mahmutoglu, Melih
17:28
10
1 / 1
2 / 4
2 / 2
0
1
1
0
0
0
0
0
12
Antic, Pero
06:58
2
1 / 2
0 / 1
0 / 0
1
1
2
0
0
0
0
1
16
Sloukas, Kostas
22:32
21
3 / 4
3 / 3
6 / 6
0
0
0
4
0
1
0
3
21
Nunnally, James William
14:18
3
0 / 0
1 / 2
0 / 0
0
0
0
2
0
1
0
0
23
Ugurlu, Berk
00:08
0
0 / 0
0 / 0
0 / 0
0
0
0
0
0
0
0
0
24
Vesely, Jan
29:17
20
7 / 8
0 / 0
6 / 10
3
3
6
1
4
5
1
4
33
Kalinic, Nikola
25:46
8
3 / 5
0 / 1
2 / 2
0
5
5
2
2
1
0
4
35
Dixon, Bobby
26:07
7
2 / 3
1 / 4
0 / 0
0
2
2
3
1
1
0
2
44
Duverioglu, Ahmet
0
0
0 / 0
0 / 0
0 / 0
0
0
0
0
0
0
0
0
70
Datome, Luigi
29:55
11
4 / 8
1 / 4
0 / 0
2
5
7
2
1
2
0
2