Date: December 20th, 2017
Khimki: 86 - Anadolu Efes: 68
Hosted by Russia's Khimki team in the 13th-week match Turkish Airlines Euroleague, Anadolu Efes lost 86-68. Anadolu Efes was trailing with the score 37-33 at the halftime of the match that has been played at Mytishchi Sports Arena.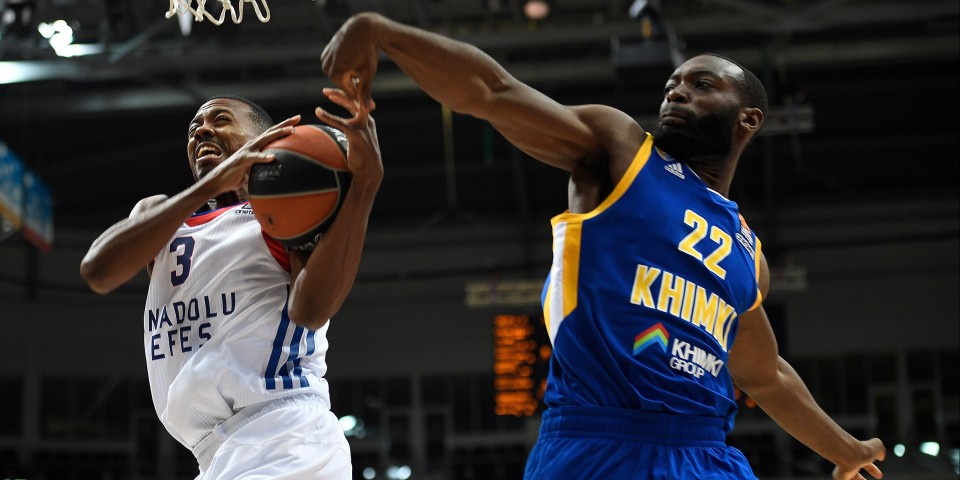 Doğuş Balbay, who already had an injury didn't wear the jersey in this match.
Starting the match with McCollum, Dragic, Simon, Brown, and Dunston Anadolu Efes's first points were shot by Dragic with a three-pointer. After Brown's point at the second minute, the score was balanced 5-5, then McCollum scored and at 4:20 the score was set to 11-11. With Simon's point our team passed the 5th minute 13-11 ahead, then the rival team scored 7 points and Dunston responded with a three-pointer and therefore the score table was set to 16-20. Remaining 3 minute duration Simon scored a three-pointer and Anadolu Efes finished the first 10 minutes trailing 26-19. Starting the second quarter with Motum's point, our team passed the 12th minute trailing 29-21. With Simon's underneath point at the 15th minute the score table was set to 23-32, then with Stimac and McCollum duo's points brought the score to 27-35 at the 16:40 and thus the hosting team called a time-out. Returning from the time-out Dunston scored and set the score to 29-37, remaining 2-minute duration Dragic and Simon scored 4 points from the free-throw line and Anadolu Efes finished the first half trailing 37-33.
Starting the second half with Simon's 5 points, Anadolu Efes brought down the score difference to 2 points at 22:30: 38-40. With McCollum and Motum at the 24th minute our team brought down the score difference to 1 point, then with McCollum's three-pointer at the 25th minute our team was ahead and thus rival team called a time-out: 45-43. Returning from the time-out McCollum scored 1 and Simon scored 2 through the free-throw and at 27:30 our team brought the score to 48-46. After Dunston's point, McCollum continued to score and our team finished the third quarter 1 point trailing: 56-57. Starting the final quarter with Adams's point, at the 31st minute our team set the score to 58-59. At 34th minute the score was set to 58-70, our team struggled to score in this part and McCollum scored 2 and Dragic scored 2 points and at 36th minute Anadolu Efes was trailing 72-61. Remaining duration Anadolu Efes scored with Stimac, Dragic and McCollum but couldn't lead the score and lost the match with the score 86-68.
Anadolu Efes

68

#
Player
Min
Pts
2P
3P
FT
OR
DR
R
A
St
To
B
F
1
Ricky Ledo
9:51
0
0 / 0
0 / 1
0 / 0
0
1
1
0
0
1
0
2
3
Errick McCollum
31:55
20
6 / 7
2 / 3
2 / 5
1
0
1
3
1
5
0
1
5
Derrick Brown
21:56
2
1 / 2
0 / 4
0 / 0
0
3
3
1
0
1
0
2
8
Birkan Batuk
5:06
0
0 / 0
0 / 0
0 / 0
0
0
0
0
1
0
0
3
10
Onuralp Bitim
00:00
0
0
0
0
0
0
0
0
0
0
0
0
11
Berk Demir
00:00
0
0
0
0
0
0
0
0
0
0
0
0
12
Brock Motum
21:57
4
2 / 3
0 / 2
0 / 0
0
1
1
0
2
1
0
0
14
Josh Adams
9:23
2
1 / 1
0 / 2
0 / 0
0
0
0
1
0
0
0
3
15
Vladimir Štimac
14:53
7
2 / 5
0 / 0
3 / 4
5
3
8
0
0
1
1
1
30
Zoran Dragić
28:06
8
1 / 3
1 / 4
3 / 4
0
1
1
2
0
2
0
0
42
Bryant Dunston
25:07
9
4 / 4
0 / 0
1 / 3
0
8
8
2
1
0
2
2
44
Krunoslav Simon
31:46
16
2 / 4
2 / 3
6 / 8
2
6
8
3
1
7
0
2
Khimki

86

#
Player
Min
Pts
2P
3P
FT
OR
DR
R
A
St
To
B
F
1
Shved, Alexey
27:40
25
3 / 5
6 / 10
1 / 1
0
2
2
6
3
2
1
1
2
Honeycutt, Tyler
18:22
2
1 / 4
0 / 3
0 / 0
2
4
6
2
1
0
0
1
6
Vialtsev, Egor
19:06
12
1 / 1
2 / 4
4 / 4
0
0
0
0
1
0
0
3
8
Zaytsev, Vyacheslav
0
0
0 / 0
0 / 0
0 / 0
0
0
0
0
0
0
0
0
9
Markovic, Stefan
24:12
2
0 / 1
0 / 3
2 / 2
1
2
3
5
2
1
0
1
10
Sokolov, Dmitry
03:54
3
1 / 1
0 / 0
1 / 2
1
0
1
0
0
0
0
1
12
Monia, Sergey
25:16
9
0 / 3
3 / 5
0 / 0
2
3
5
4
1
0
0
4
13
Gill, Anthony
19:58
16
5 / 8
1 / 1
3 / 3
1
5
6
0
0
2
0
4
19
Todorovic, Marko
05:55
0
0 / 1
0 / 0
0 / 0
0
1
1
0
0
1
0
0
21
Anderson, James
18:18
9
0 / 1
3 / 5
0 / 0
0
1
1
2
0
1
0
2
22
Jenkins, Charles
12:40
3
0 / 0
1 / 3
0 / 0
0
1
1
0
1
0
0
3
23
Thomas, Malcolm
24:39
5
1 / 3
1 / 1
0 / 0
1
1
2
4
2
1
0
3