Date: December 30th, 2015
Last win of the year, first win of Top 16 by Efes: 85-84
Hosting the Serbian side Crvena Zvezda in the first week match of Turkish Airlines Euroleague Top 16 Group E, Anadolu Efes won the game 85-84. Anadolu Efes was trailing 54-44 at the halftime of the match, played at Abdi İpekçi Arena.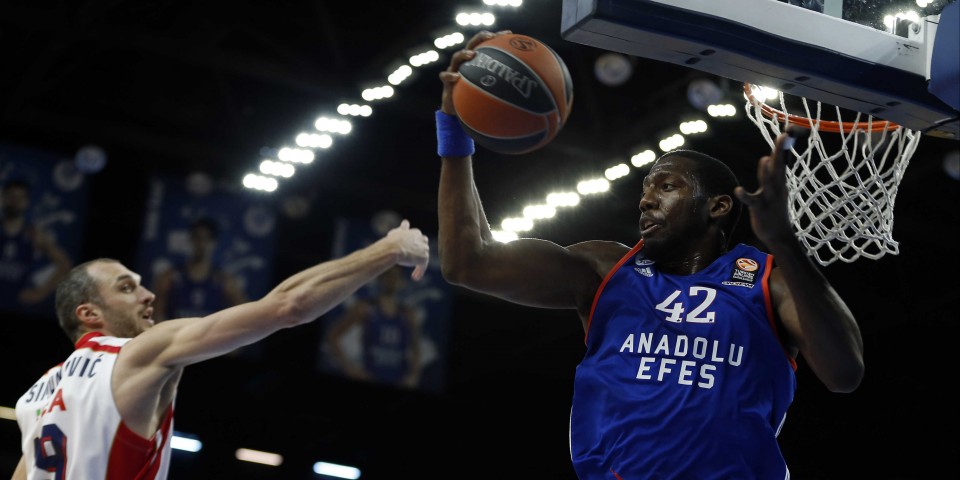 Starting the match with Granger, Furkan, Diebler, Saric and Tyus, Anadolu Efes got its first points by Saric. Hitting two three-pointers with Diebler from both corners, Efes was ahead 9-5 at 3.30. Sinking two more three-point field goals by Saric and Diebler, Efes was leading 15-9 during the TV timeout at 5.40. After the opponent tied the game within three minutes following the timeout; Dunston, Brown and Cedi's points set the score for the first 10 minutes of the game: 25-23. As Efes started the second quarter with Heurtel's layup, the opponent got a 6-0 scoring run to make it 27-29 in the 12th minute, and coach Ivkovic called a timeout. Hitting a free throw with Heurtel following the timeout, Efes was trailing 33-30 into the 14th minute after Furkan's reverse layup. Trailing 39-34 past the 15th minute after four points by Diebler from the foul line, Efes had slam dunks by Tyus and Furkan to bring the margin down to one point with four minutes to play in the half, forcing the opponent to call a timeout: 38-39. Scoring with Tyus, Granger and Furkan in the remaining four minutes after the timeout, Efes was behind 54-44 while heading into the locker room for the halftime.
Opening the score sheet with two accurate free throws in the second half, Dunston brought the margin down to eight points in the 21st minute: 46-54. With the score 49-56 following Heurtel's three pointer at 23.30, Efes got a slam dunk by Dunston, behind 60-51 at the TV timeout in the 25th minute. Getting four points by Dunston after the timeout, Efes was trailing 55-66 past the 27th minute. With the score 55-70 in the 28th minute, Efes scored six points with Granger and Tyus, trailing 72-61 while heading into the final quarter. As Saric scored our first points in the final quarter, Cedi's three pointer at 31.30 brought the margin down to four: 68-72. Trailing 75-72 in the 33rd minute after Dunston's points, Efes was behind 79-76 in the 35th minute following Granger's points in the paint. As Dunston scored three points from the foul line, Efes tied the match at 36.30 as the score was 79-79. Responding to the opponent's points with Granger, Anadolu Efes was trailing 84-83 with one minute left to play. Saric's incredible field goal with three seconds left on the clock put Efes up 85-84, and set the score for the match.
Anadolu Efes

85

#
Player
Min
Pts
2P
3P
FT
OR
DR
R
A
St
To
B
F
2
Alex Tyus
13:25
6
2 / 4
0 / 0
2 / 6
1
3
4
0
0
2
2
1
4
Doğuş Balbay
00:13
0
0 / 0
0 / 0
0 / 0
0
0
0
0
0
0
0
0
5
Derrick Brown
18:07
2
1 / 4
0 / 1
0 / 2
0
0
0
1
0
0
1
1
6
Cedi Osman
15:57
5
1 / 1
1 / 3
0 / 0
1
0
1
0
0
0
0
1
8
Birkan Batuk
3:44
0
0 / 1
0 / 1
0 / 0
0
0
0
0
1
0
0
1
9
Dario Šarić
23:22
12
4 / 6
1 / 1
1 / 1
3
1
4
0
1
1
1
2
10
Furkan Korkmaz
16:26
7
2 / 3
1 / 5
0 / 0
2
1
3
2
0
0
0
0
15
Jayson Granger
23:50
13
5 / 9
1 / 2
0 / 0
1
2
3
5
1
1
0
3
31
Thomas Heurtel
31:03
6
1 / 1
1 / 3
1 / 2
0
3
3
8
1
4
0
3
33
Jon Diebler
28:47
13
0 / 0
3 / 5
4 / 5
2
1
3
7
0
0
0
2
42
Bryant Dunston
23:47
21
7 / 8
0 / 0
7 / 8
1
3
4
1
0
4
1
3
44
Ahmet Düverioğlu
1:19
0
0 / 0
0 / 0
0 / 0
0
0
0
0
0
1
0
1
Kızılyıldız

84

#
Player
Min
Pts
2P
3P
FT
OR
DR
R
A
St
To
B
F
4
Rebic, Nikola
1:39
0
0 / 0
0 / 0
0 / 0
0
0
0
0
0
0
0
0
6
Dangubic, Nemanja
4:14
3
0 / 0
1 / 1
0 / 0
0
0
0
0
0
1
0
1
10
Lazic, Branko
25:30
10
1 / 4
2 / 4
2 / 2
0
0
0
1
1
0
0
3
12
Simanic, Borisa
0
0
0 / 0
0 / 0
0 / 0
0
0
0
0
0
0
0
0
13
Micic, Vasilije
16:48
6
1 / 4
1 / 2
1 / 2
0
0
0
6
0
2
0
1
15
Tejic, Marko
4:05
2
1 / 1
0 / 0
0 / 0
0
0
0
0
0
0
0
2
19
Simonovic, Marko
26:36
10
2 / 2
2 / 5
0 / 0
0
2
2
0
0
0
0
2
23
Guduric, Marko
18:31
5
1 / 1
1 / 3
0 / 0
0
1
1
3
2
2
0
4
24
Jovic, Stefan
30:58
8
4 / 5
0 / 0
0 / 0
0
3
3
11
3
2
0
2
30
Miller, Quincy
31:39
12
6 / 8
0 / 6
0 / 0
1
5
6
0
1
2
0
4
33
Zirbes, Maik
30:49
22
9 / 16
0 / 0
4 / 5
7
5
12
2
0
1
0
4
51
Stimac, Vladimir
9:11
6
3 / 3
0 / 0
0 / 0
0
1
1
0
0
1
0
1