Date: April 7th, 2016
Winning effort from Anadolu Efes in our last Euroleague match this season: 91-86
Hosting the Greek side Panathinaikos in the 14th and last week match of Turkish Airlines Euroleague Top 16 Group E, Anadolu Efes won the game 91-86. Eliminated from playoff contention last week, Anadolu Efes was trailing 43-52 at the halftime of the match, played at Abdi İpekçi Arena.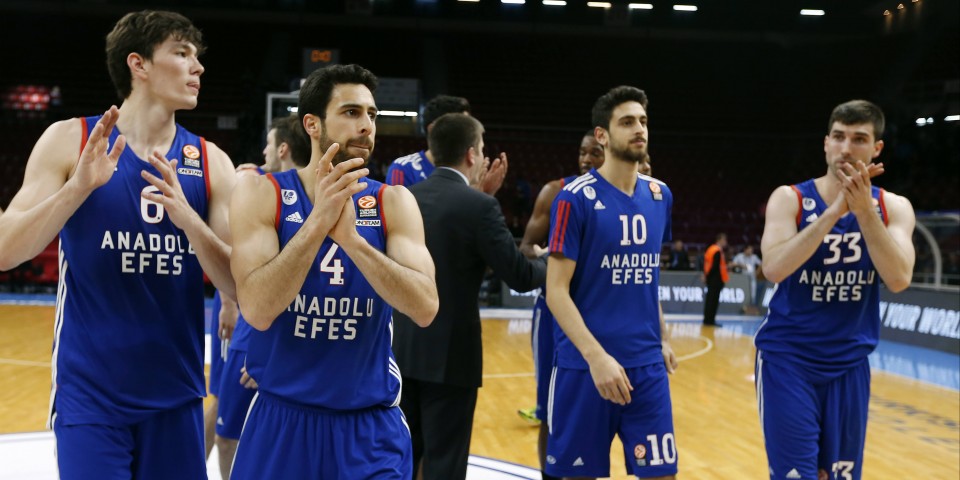 Starting the match with Granger, Heurtel, Cedi, Saric and Dunston, Anadolu Efes's first points were scored by Dunston. Trailing 4-10 past the fourth minute, Efes brought the margin to three with Cedi's three point field goal: 7-10. Getting another field goal with Dunston, Efes had three points by Furkan helped by an and-one, behind 12-13 in the sixth minute. Following Tyus and Diebler's points in the remaining part of the quarter, Anadolu Efes was trailing 17-23 at the end of the first 10 minutes of the game. Starting the second quarter with Tyus and Diebler's field goals, Efes was down 22-26 past the 11th minute. With Tyus's field goals from the paint helped by Birkan and Cedi's three pointers, the score was 34-39 in the 16th minute. After Panathinaikos's timeout, Cedi and Birkan scored two points each, bringing the margin to three points with 2.25 minutes left in the half: 38-41. Cedi, Dunston and Birkan's five points in the remaining duration helped Anadolu Efes towards a halftime score of 43-52.

As Diebler opened the score sheet in the second half, Saric's points helped Efes make it 49-58 in the 23rd minute. Playing solid defense and getting seven more points by Heurtel and Saric, Anadolu Efes brought the lead down to three points in the 24th minute, forcing Panathinaikos to call a timeout: 55-58. Reaching 57 points with Dunston's slam dunk following the timeout, Efes had another slam dunk by Brown, down 59-64 in the 27th minute. Getting one more field goal by Cedi in the remaining three minutes, Efes was trailing 61-66 while heading into the final quarter. Starting the final quarter with three accurate free throws by Dunston and Brown, Efes had a three point field goal by Diebler, behind 67-70 at 31.30. Trailing 71-76 at 33.30 with Heurtel and Brown's points, Anadolu Efes scored a three pointer with Saric to cut the lead down to two points in the 34th minute: 74-76. Scoring three points from an and-one in the 35th minute, Heurtel helped Efes claim the lead for the first time in the match: 77-76. Leading 80-78 into the final 3.30 minutes of the game with Diebler's three pointer, Efes increased the lead to five points with Saric's three pointer into the final 2.20 minutes of the game: 83-78. Keeping ahead in the remaining time, Anadolu Efes had scoring by Brown, Saric and Diebler, and won the game 91-86.
Anadolu Efes

91

#
Player
Min
Pts
2P
3P
FT
OR
DR
R
A
St
To
B
F
2
Alex Tyus
13:01
10
5 / 6
0 / 0
0 / 0
2
3
5
1
0
1
0
0
4
Doğuş Balbay
2:44
0
0 / 0
0 / 0
0 / 0
0
0
0
0
1
0
0
1
5
Derrick Brown
24:48
11
2 / 7
1 / 2
4 / 8
2
3
5
2
1
0
1
2
6
Cedi Osman
28:27
12
4 / 9
1 / 4
1 / 1
3
1
4
2
2
0
0
0
8
Birkan Batuk
14:58
7
1 / 1
1 / 4
2 / 2
0
1
1
1
0
0
0
4
9
Dario Šarić
21:42
15
3 / 3
2 / 7
3 / 3
2
5
7
0
0
1
2
3
10
Furkan Korkmaz
6:17
3
1 / 3
0 / 1
1 / 1
1
1
2
0
0
0
0
0
15
Jayson Granger
10:54
0
0 / 2
0 / 1
0 / 0
0
0
0
3
0
1
0
0
31
Thomas Heurtel
32:52
9
3 / 3
0 / 5
3 / 4
1
1
2
9
1
5
0
3
33
Jon Diebler
23:48
13
1 / 2
3 / 5
2 / 2
1
0
1
0
0
0
0
3
42
Bryant Dunston
20:29
11
4 / 5
0 / 0
3 / 4
3
0
3
4
0
1
0
1
44
Ahmet Düverioğlu
00:00
0
0
0
0
0
0
0
0
0
0
0
0
Panathinaikos Superfoods

86

#
Player
Min
Pts
2P
3P
FT
OR
DR
R
A
St
To
B
F
0
Haynes, Marquez
11:17
6
0 / 0
2 / 2
0 / 0
0
2
2
2
1
1
0
1
5
Charalampopoulos, Vasilis
0
0
0 / 0
0 / 0
0 / 0
0
0
0
0
0
0
0
0
8
Jankovic, Vladimir
15:10
10
1 / 1
2 / 2
2 / 2
1
2
3
2
0
1
1
3
9
Fotsis, Antonis
13:27
0
0 / 0
0 / 1
0 / 0
1
2
3
2
0
0
0
2
10
Raduljica, Miroslav
21:29
10
3 / 8
0 / 0
4 / 4
2
2
4
1
0
2
0
4
12
Feldeine, James
21:00
5
1 / 4
1 / 2
0 / 0
1
1
2
1
0
1
0
1
13
Diamantidis, Dimitris
17:26
10
2 / 2
2 / 3
0 / 0
0
3
3
1
0
4
0
0
14
Gist, James
26:54
14
4 / 7
2 / 3
0 / 0
2
2
4
0
1
3
0
2
15
Calathes, Nick
32:31
14
3 / 5
2 / 4
2 / 4
3
5
8
10
2
2
0
3
21
Kuzmic, Ognjen
12:06
1
0 / 2
0 / 0
1 / 2
1
0
1
0
0
1
0
2
22
Williams, Elliot
22:34
14
7 / 13
0 / 1
0 / 0
1
1
2
0
1
2
0
4
32
Hunter, Vince
6:06
2
1 / 1
0 / 0
0 / 0
0
1
1
0
0
0
0
3