Date: January 5th, 2017
Winning start to the second half in the Euroleague: 84-73
Hosting Galatasaray Odeabank at the 16th week match-up of Turkish Airlines Euroleague, Anadolu Efes won the game 84-73. Anadolu Efes was ahead 42-36 at the halftime of the match, played at Abdi İpekçi Arena.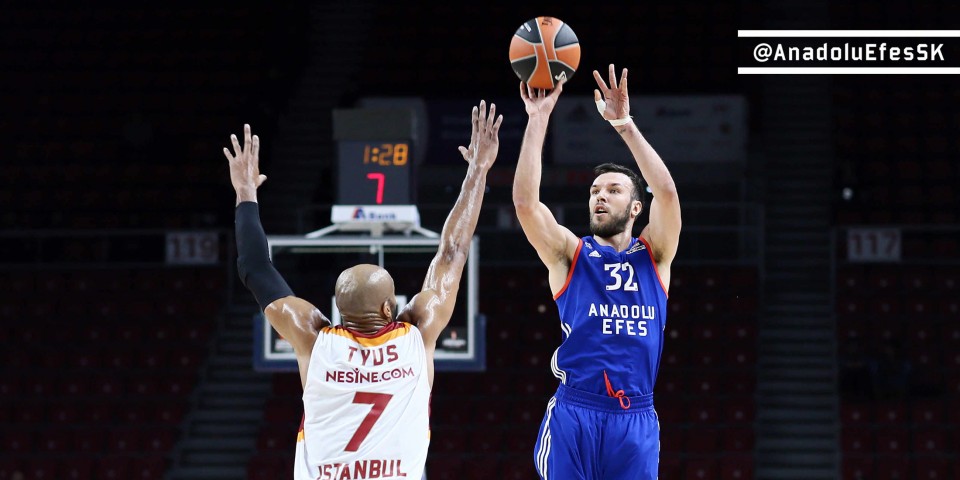 Starting the match with Granger, Paul, Cedi, Brown and Dunston, Anadolu Efes's first field goal was scored by Paul. Scoring with Dunston and Paul within the initial moments, Efes was leading 13-11 into the TV timeout in the fifth minute. After the timeout, Paul's high-scoring game was accompanied by the newly-subbed Omic as Efes finished the first 10 minutes ahead 22-18. Starting the second quarter with Heurtel's field goal, Efes was ahead 26-24 past the 12th minute with Thomas's field goal from the paint. Ahead 30-27 past the 15th minute with Dunston and Heurtel's points, Efes increased the lead to six points at 16:30 with Brown and Can Maxim: 35-29. Getting three points by Can Maxim and two points each by Brown and Granger in the remaining duration, Anadolu Efes went to the locker room leading 42-36 at the halftime.
Starting the second half with two free throws by Dunston, Efes was ahead 46-40 at 22:30 with Brown's field goal. After Cedi's three-pointer followed by Dunston's two points from the foul line, Efes was leading 55-49 into the 27th minute following Granger's points. As Dunston and Cedi's scoring was accompanied by Heurtel and Brown in the remaining duration, the score was 66-59 in favor of Efes while heading into the final quarter. With Omic scoring our first field goal in the final quarter, the lead went up to 12 points in the 31st minute with Can Maxim's three-pointer: 71-59. After Brown and Granger's three pointers followed by Dunston's field goal from the paint, Efes was ahead 79-67 in the 36th minute. Leading 79-73 into the final two minutes of the match, Anadolu Efes got five more points by Granger and Brown in the remaining duration, and won the match 84-73.
Anadolu Efes

84

#
Player
Min
Pts
2P
3P
FT
OR
DR
R
A
St
To
B
F
1
Deshaun Thomas
11:50
2
1 / 5
0 / 3
0 / 0
3
0
3
0
0
2
0
1
2
Tyler Honeycutt
23:27
0
0 / 3
0 / 2
0 / 0
1
3
4
2
1
0
1
2
4
Doğuş Balbay
00:00
0
0
0
0
0
0
0
0
0
0
0
0
5
Derrick Brown
30:28
13
4 / 7
1 / 1
2 / 2
0
3
3
1
2
2
1
2
6
Cedi Osman
16:33
6
0 / 2
2 / 2
0 / 0
0
1
1
0
0
0
0
2
9
Samet Geyik
00:00
0
0
0
0
0
0
0
0
0
0
0
0
15
Jayson Granger
19:08
12
3 / 3
2 / 2
0 / 1
0
1
1
6
0
1
0
1
23
Alen Omić
11:11
6
3 / 6
0 / 0
0 / 0
2
0
2
0
0
0
0
1
31
Thomas Heurtel
22:16
8
4 / 10
0 / 1
0 / 4
2
6
8
7
1
2
0
0
32
Can Maxim Mutaf
15:47
9
0 / 0
3 / 5
0 / 0
1
2
3
1
4
1
0
2
33
Brandon Paul
22:49
11
2 / 5
2 / 4
1 / 3
0
3
3
0
2
2
2
2
42
Bryant Dunston
26:31
17
6 / 10
0 / 0
5 / 6
3
3
6
1
0
1
2
3
Galatasaray Odeabank

73

#
Player
Min
Pts
2P
3P
FT
OR
DR
R
A
St
To
B
F
5
Micov, Vladimir
34:44
17
4 / 7
3 / 5
0 / 0
3
4
7
3
0
1
0
2
6
Fitipaldo, Bruno
20:35
6
0 / 3
2 / 4
0 / 0
0
0
0
2
0
2
0
4
7
Tyus, Alex
23:47
16
8 / 10
0 / 0
0 / 0
1
9
10
1
0
3
3
2
8
Korkmaz, Can
0
0
0 / 0
0 / 0
0 / 0
0
0
0
0
0
0
0
0
10
Schilb, Blake
27:50
2
1 / 3
0 / 2
0 / 0
2
2
4
5
0
3
0
2
11
Arar, Ege
0
0
0 / 0
0 / 0
0 / 0
0
0
0
0
0
0
0
0
14
Haciyeva, Orhan
0
0
0 / 0
0 / 0
0 / 0
0
0
0
0
0
0
0
0
21
Pleiss, Tibor
15:16
6
1 / 4
0 / 0
4 / 4
0
3
3
0
0
0
2
0
25
Daye, Austin
19:37
2
1 / 2
0 / 2
0 / 0
0
2
2
2
0
1
1
1
32
Guler, Sinan
31:45
20
4 / 6
4 / 6
0 / 0
0
2
2
2
2
3
0
2
33
Diebler, Jon
14:05
0
0 / 1
0 / 0
0 / 0
0
2
2
2
0
0
0
4
61
Koksal, Goksenin
12:21
4
2 / 4
0 / 1
0 / 0
0
0
0
1
0
2
0
3