Date: December 22nd, 2016
Turkish teams clash in the Euroleague; Anadolu Efes wins: 86-76
Playing on the road against Galatasaray Odeabank at the 14th week match-up of Turkish Airlines Euroleague, Anadolu Efes won the game 86-76. Anadolu Efes was trailing 38-44 at the halftime of the match, played at Abdi İpekçi Arena.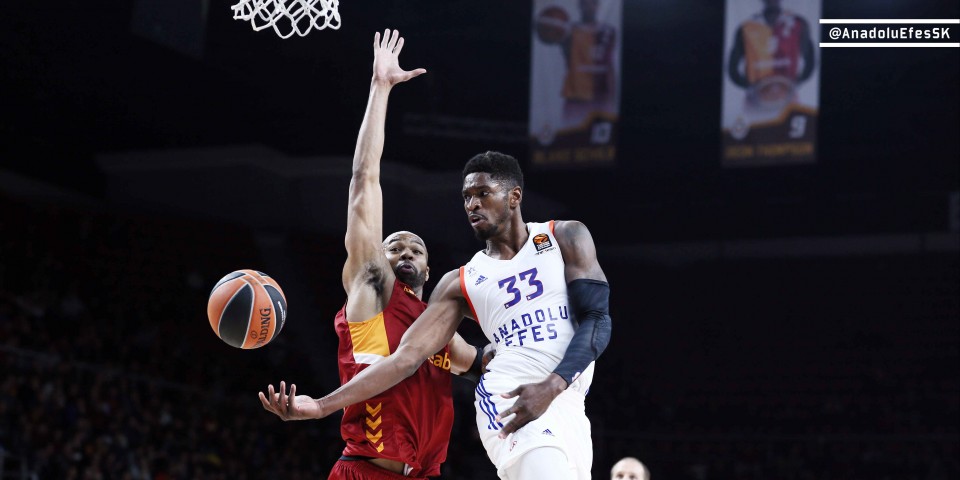 Starting the match with Granger, Paul, Cedi, Brown and Dunston, Anadolu Efes got the first field goal of the match by Dunston. Scoring his first field goal at Anadolu Efes, Paul made it 4-0 in the second minute, which was followed by Granger's field goal to force the home team to call a timeout: 6-0. Following the timeout, Efes had another field goal by Dunston, leading 8-2 past the fourth minute. Leading 16-8 at 7:30 with four points each by Brown and Heurtel, Efes was unable to score within the remaining 2:30 minutes and was trailing 16-18 at the end of the first 10 minutes of the game. Starting the second quarter with Dunston and Heurtel's points, Efes was trailing 22-26 at 13:30 and Perasovic called a timeout. Trailing 27-34 following five points by Heurtel following the timeout past the 16th minute, Efes had two points from the foul line by Dunston, behind 29-38 into the final two minutes of the half. Scoring with Cedi, Paul and Brown in the remaining two minutes, Anadolu Efes was trailing at the halftime 38-44.
Opening the score sheet for Efes in the second half, Cedi hit a spectacular layup to cut the margin down to four points: 40-44. As Heurtel and Cedi's points were supported by Paul for seven points in a row, Anadolu Efes tied the game at 25:30: 52-52. While both teams were able to respond to each other in scoring during these moments, Thomas's five points followed by Honeycutt's three-pointer settled the score for the third quarter: 60-58. Starting the final quarter with Granger and Dunston's points, Anadolu Efes was leading 69-60 into the 33rd minute. With five points by Paul, Anadolu Efes was leading 74-60 past the 35th minute. Getting eight points by Brown, Efes was ahead 82-70 into the last 1:25 minutes of the match. Keeping ahead in the remaining duration, Anadolu Efes got points by Paul and Brown, and left the court victorious 86-76.
Anadolu Efes

86

#
Player
Min
Pts
2P
3P
FT
OR
DR
R
A
St
To
B
F
1
Deshaun Thomas
13:39
5
1 / 2
1 / 4
0 / 0
0
4
4
0
0
1
0
2
2
Tyler Honeycutt
22:08
3
0 / 2
1 / 2
0 / 0
1
6
7
3
0
3
0
0
4
Doğuş Balbay
00:6
2
1 / 1
0 / 0
0 / 0
1
0
1
0
0
0
0
0
5
Derrick Brown
29:51
16
6 / 12
0 / 0
4 / 4
2
5
7
0
3
0
0
0
6
Cedi Osman
17:25
6
3 / 4
0 / 4
0 / 2
1
0
1
2
1
0
0
0
9
Samet Geyik
00:00
0
0
0
0
0
0
0
0
0
0
0
0
15
Jayson Granger
24:48
9
4 / 6
0 / 1
1 / 1
1
2
3
2
0
1
0
3
23
Alen Omić
5:16
0
0 / 2
0 / 0
0 / 0
2
0
2
1
0
0
0
1
31
Thomas Heurtel
26:00
14
5 / 10
1 / 3
1 / 1
0
2
2
8
2
2
0
1
32
Can Maxim Mutaf
2:18
0
0 / 0
0 / 0
0 / 0
1
0
1
0
0
1
0
2
33
Brandon Paul
27:15
19
1 / 1
3 / 9
8 / 8
0
1
1
1
5
2
0
3
42
Bryant Dunston
31:14
12
4 / 9
0 / 0
4 / 6
5
3
8
0
2
2
0
3
Galatasaray Odeabank

76

#
Player
Min
Pts
2P
3P
FT
OR
DR
R
A
St
To
B
F
3
Preldzic, Emir
17:31
8
1 / 2
2 / 4
0 / 0
0
1
1
0
0
2
0
1
7
Tyus, Alex
33:21
15
7 / 10
0 / 0
1 / 2
4
9
13
1
2
3
3
0
8
Korkmaz, Can
04:19
2
0 / 0
0 / 1
2 / 2
0
0
0
0
0
2
0
0
9
Thompson, Deon
22:01
5
2 / 6
0 / 0
1 / 1
2
4
6
3
2
1
0
3
10
Schilb, Blake
36:06
21
10 / 15
0 / 3
1 / 1
2
6
8
5
1
3
0
5
11
Arar, Ege
0
0
0 / 0
0 / 0
0 / 0
0
0
0
0
0
0
0
0
14
Haciyeva, Orhan
04:10
0
0 / 0
0 / 0
0 / 0
0
0
0
0
0
0
0
1
21
Pleiss, Tibor
06:55
4
2 / 4
0 / 1
0 / 0
2
2
4
0
0
0
1
2
32
Guler, Sinan
31:31
9
4 / 7
0 / 4
1 / 2
1
3
4
9
1
6
0
1
33
Diebler, Jon
27:39
9
3 / 4
1 / 4
0 / 0
2
0
2
2
2
2
0
4
61
Koksal, Goksenin
16:27
3
1 / 1
0 / 4
1 / 2
1
1
2
0
0
0
0
1