Date: December 25th, 2017
Anadolu Efes: 77 - Banvit: 99
Hosting Banvit team in the 12th-week match Tahincioğlu Basketbol Super League, Anadolu Efes lost 99-77. Anadolu Efes was trailing with the score 51-42 at the halftime of the match that has been played at Sinan Erdem Sports Arena.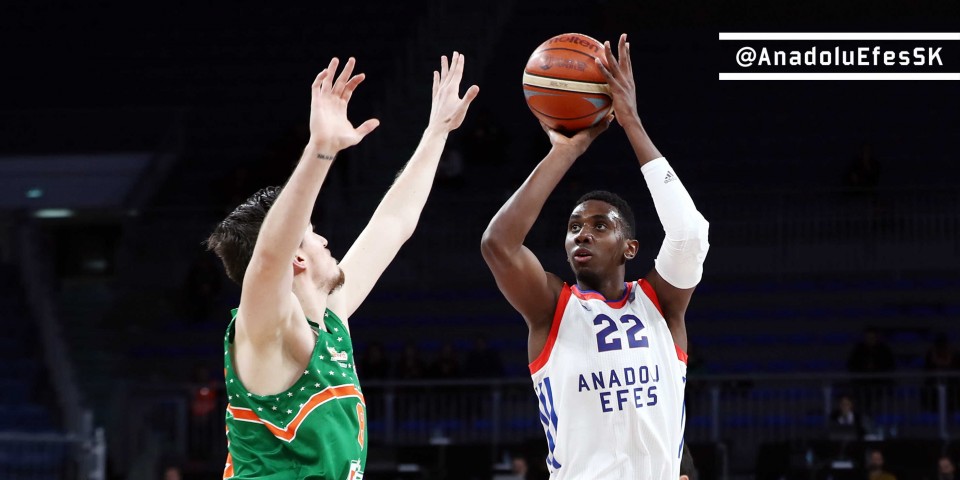 Doğuş Balbay, who already had an injury didn't wear the jersey in this match.
Starting the match with McCollum, Birkan, Simon, Brown, and Dunston Anadolu Efes's first points were shot by McCollum. Our team scored our 4th point with Dunston's underneath shoot, then after the rival team's points, our team was trailing 15-4 at the 5th minute. After our young player Muhaymin and McCollum's points, Stimac scored underneath and our team was trailing 26-17 at the last minute of the quarter. Our last second three-pointer was scored by our other young player Arda, and thus our team finished the first 10 minutes trailing 29-20. Starting the second quarter with Dragic's three-pointer, our team stole the ball from the rival's offense with Berk and scored with a layup, thus brought down the score difference to 6 points: 25-31. Dragic and Muhaymin scored 2 points each from the free-throw line, then Muhaymin scored a three-pointer as well and brought down the score difference to 4 points, then the rival team called a time-out: 32-36. Returning from the time-out, McCollum and Dunston scored and the 17th minute was passed with the score of 36-42. Remaining duration Stimac and Simon scored, though Anadolu Efes was trailing 51-42.
Starting the second half with McCollum's basket, Brown also scored and set the score table to 46-53 at the 22:30. At 24:30 the score was brought up to 46-59, then Stimac and Brown duo's points set the score table to 53-64 at the 27th minute. Stimac scored from the free-throw line in the last 2 minutes of the quarter and brought the score to 56-67, in the remaining duration our team couldn't score and head to the last quarter trailing 74-56. Starting the final quarter with McCollum's points, our team set the score to 59-76 at the 32nd minute. After McCollum scored 3 points from the free-throw line, our team was trailing 85-62 at the 35th minute. With Simon and Stimac's points Anadolu Efes was trailing 90-66 at the last 3-minute duration of the match, in the remaining duration McCollum, Berk and Stimac scored but our team lost the match with the score of 99-77.
Anadolu Efes

77 - 99

Banvit
#
Player
Min
Pts
2P
3P
FT
OR
DR
R
A
St
To
B
F