Date: January 8th, 2017
Our 1000th win in the Turkish League through a 80-77 win over Galatasaray Odeabank...
Hosting Galatasaray Odeabank at the 14th week match-up of Spor Toto Basketball Super League, Anadolu Efes won the game 80-77. Anadolu Efes was trailing 28-40 at the halftime of the match, played at Abdi İpekçi Arena.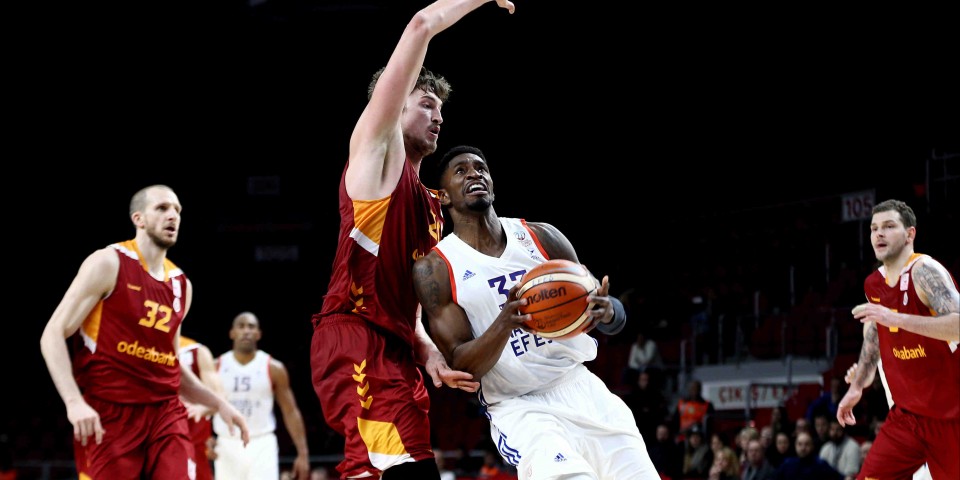 Starting the match with Granger, Paul, Cedi, Brown and Dunston, Anadolu Efes had a quick start into the game, ahead 10-0 past the fourth minute with Paul and Brown's points. Following the away team's timeout during this moment, the score was 14-7 at 6:40 following Cedi and Granger's points. Hitting one field goal in the remaining duration, Anadolu Efes was trailing 16-17 past the first 10 minutes following the opponent's scoring. Starting the second quarter with Cedi's field goal, Efes was trailing 18-24 into the 12th minute as Perasovic called a timeout. Scoreless within the 3:20 minutes following the timeout, Efes was trailing 20-32 at 14:40 after Doğuş's points. Getting a steal and hitting the layup, Doğuş cut the margin down to 10 points in the 16th minute as Efes was behind 22-32. With Granger and Paul's points, Efes was behind 27-38 with 1:30 minutes left to play in the half. Getting one point with Dunston in the remaining 1:30 minutes, Anadolu Efes went to the locker room trailing 28-40 at the halftime.
Starting the second half with six points by Dunston, Anadolu Efes was down 34-47 past the 23rd minute. With the score 37-47 following Cedi's three-pointer, Efes cut the margin all the way down to four points at 27:30 with nine consecutive points by Heurtel: 46-50. Getting a field goal by Brown and five more points by Heurtel, Efes—after trailing by as much as 15 points in the 22nd minute—reclaimed the lead in the 29th minute: 53-52. Getting a three-point field goal by Brown in the remaining one minute, Efes was leading 56-54 while heading into the final 10 minutes after a partial score of 28-14 in the quarter. Starting the fourth quarter with Cedi's three-pointer, Efes was ahead 59-57 past the 31st minute. While the score was tied 65-65 past the 35th minute with Thomas, Heurtel and Cedi's points, Paul got seven consecutive points as Efes was leading 72-65 at 37:30. Leading 72-69 into the last 1:30 minutes of the match, Anadolu Efes had two points by Granger from the foul line, ahead 74-69 past the 39th minute. Capitalizing on tactical fouls with Paul, Granger and Cedi within the remaining one minute, Anadolu Efes left the court victorious 80-77.
Anadolu Efes

80

#
Player
Min
Pts
2P
3P
FT
OR
DR
R
A
St
To
B
F
1
Deshaun Thomas
13:46
4
2 / 3
0 / 2
0 / 0
0
2
2
0
0
1
0
1
3
Oğulcan Baykan
00:00
0
0
0
0
0
0
0
0
0
0
0
0
4
Doğuş Balbay
8:39
4
2 / 2
0 / 1
0 / 0
0
0
0
2
2
0
0
1
5
Derrick Brown
31:38
9
3 / 5
1 / 2
0 / 0
1
2
3
3
0
2
0
2
6
Cedi Osman
33:17
14
3 / 4
2 / 5
2 / 2
0
3
3
2
2
3
1
3
9
Samet Geyik
00:00
0
0
0
0
0
0
0
0
0
0
0
0
11
Berk Demir
00:00
0
0
0
0
0
0
0
0
0
0
0
0
15
Jayson Granger
30:28
8
2 / 5
0 / 1
4 / 4
1
2
3
6
3
0
0
3
31
Thomas Heurtel
20:56
16
5 / 10
2 / 4
0 / 0
0
1
1
1
0
0
0
4
32
Can Maxim Mutaf
2:17
0
0 / 0
0 / 0
0 / 0
0
0
0
0
0
0
0
1
33
Brandon Paul
24:23
18
0 / 4
4 / 6
6 / 6
0
4
4
1
1
4
0
1
42
Bryant Dunston
34:36
7
2 / 4
0 / 0
3 / 7
2
5
7
3
4
1
2
4
Galatasaray Odeabank

77

#
Player
Min
Pts
2P
3P
FT
OR
DR
R
A
St
To
B
F
5
Vladimir Micov
40:00
12
2 / 7
1 / 5
5 / 6
1
2
3
0
1
3
0
3
6
Bruno Fitipaldo Rodriguez
39:04
16
4 / 7
2 / 6
2 / 2
1
3
4
5
1
3
0
4
7
Alexander Trent Tyus Cecchini
09:15
0
0 / 2
0 / 0
0 / 0
0
0
0
0
0
2
0
1
8
Can Korkmaz
00:06
0
0 / 0
0 / 0
0 / 0
0
0
0
0
0
0
0
1
10
Blake Isaac Schilb
29:56
12
2 / 3
2 / 3
2 / 2
2
4
6
5
0
2
0
1
11
Ege Arar
03:01
0
0 / 0
0 / 0
0 / 0
0
0
0
0
0
0
0
1
14
Orhan Aydin Haciyeva
00:07
0
0 / 0
0 / 0
0 / 0
0
0
0
0
0
0
0
1
21
Tibor Pleiss
30:45
22
7 / 9
0 / 0
8 / 10
4
5
9
1
0
3
1
3
25
Austin Darren Daye
07:03
0
0 / 2
0 / 1
0 / 0
0
2
2
0
0
1
0
1
32
Sinan Güler
39:30
15
3 / 5
2 / 4
3 / 3
1
7
8
3
3
3
0
4
61
Hüseyin Göksenin Köksal
01:13
0
0 / 0
0 / 0
0 / 0
0
0
0
0
0
1
0
1