Date: November 15th, 2016
No chance for Unics Kazan against Anadolu Efes: 104-99
Hosting the Russian side Unics Kazan in the seventh week match of Turkish Airlines Euroleague first round, Anadolu Efes won the game 104-99. Anadolu Efes was trailing 49-54 at the halftime of the match, played at Abdi İpekçi Arena.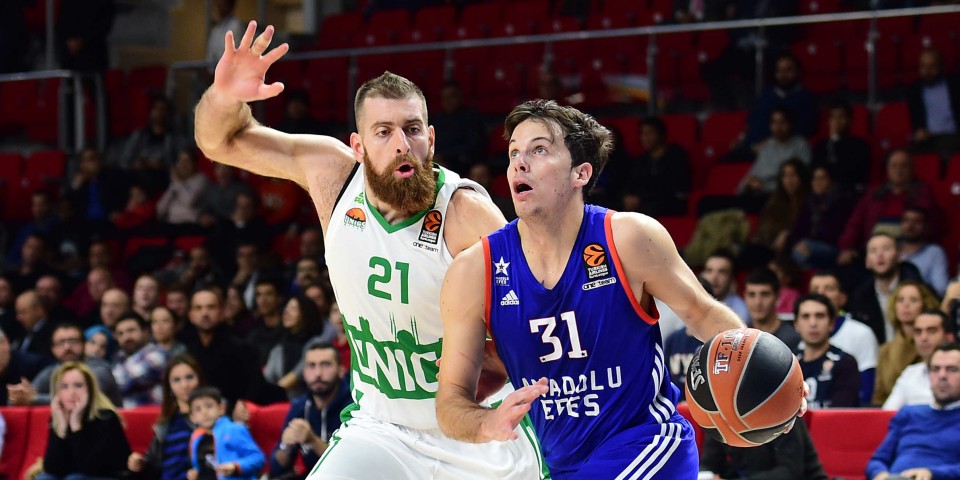 Starting the match with Granger, Cotton, Cedi, Brown and Dunston, Anadolu Efes's first points were scored by Dunston. While the score was 4-4 past the second minute, Efes was behind 9-10 into the fifth minute following five points by Cedi. One three-point field goal by Granger and two three-point field goals by Cedi helped Efes claim the lead for the first time in the game with 2:30 minutes remaining in the quarter: 18-17. As Brown started getting involved on offense, Anadolu Efes was trailing 24-26 past the first 10 minutes of the game. Starting the second quarter with Omic's points, Efes got four points by Heurtel at 13:30 to tie the game: 32-32. While Dunston and Thomas's points kept the score in balance, the opponent's six points in succession allowed them to pull up 36-42 in the 15th minute, and coach Perasovic called a timeout. Even though Efes was trailing as much as nine points with 3:45 minutes left in the half after the timeout when the score was 38-47, 11 points by Thomas and two points by Granger tied the game once more at 1:30: 49-49. Unable to score in the remaining duration, Efes was trailing at the halftime 49-54.
As Dunston scored our first points in the second half from the foul line, the American's four accurate free throws helped keep the score at 53-58 in the 21st minute. Following Brown and Granger's points during these moments, Heurtel and Honeycutt's points off fast-breaks pulled Efes up 64-63 at 23:50. Leading 69-65 at 25:30 with Heurtel's points, Efes had a slam dunk by Dunston and a layup by Heurtel to increase the lead to six points in the 27th minute, forcing the opponent to call a timeout: 73-67. Responding to the opponent's field goal following the timeout with five points by Thomas, Efes was leading 78-69 into the final 1:20 minutes of the quarter. Beating the buzzer with a three-pointer, Honeycutt set the score for the quarter: 81-74. As Honeycutt scored our first field goal in the final quarter, Efes increased the margin to nine points at 31:30 with Thomas's layup: 85-76. Leading 90-81 past the 33rd minute with Heurtel's points, Efes increased the lead to double digits for the first time in the match with Brown and Cedi: 95-83. Keeping ahead in the last five minutes with Heurtel, Dunston and Honeycutt's points, Anadolu Efes emerged victorious 104-99.
Anadolu Efes

104

#
Player
Min
Pts
2P
3P
FT
OR
DR
R
A
St
To
B
F
1
Deshaun Thomas
19:33
20
4 / 4
2 / 6
6 / 6
0
0
0
0
0
1
0
0
2
Tyler Honeycutt
20:29
12
2 / 3
2 / 3
2 / 2
2
4
6
5
1
0
1
3
4
Doğuş Balbay
12:15
0
0 / 0
0 / 0
0 / 0
0
0
0
2
0
1
0
5
5
Derrick Brown
28:29
8
4 / 9
0 / 2
0 / 0
0
1
1
6
0
0
1
2
6
Cedi Osman
19:31
16
1 / 1
4 / 5
2 / 2
1
1
2
0
0
1
0
1
7
Bryce Cotton
5:26
0
0 / 2
0 / 1
0 / 0
1
0
1
2
0
0
0
1
9
Samet Geyik
00:00
0
0
0
0
0
0
0
0
0
0
0
0
10
Furkan Korkmaz
00:00
0
0
0
0
0
0
0
0
0
0
0
0
15
Jayson Granger
29:40
7
1 / 2
1 / 2
2 / 2
0
2
2
8
2
1
0
3
23
Alen Omić
5:27
4
2 / 3
0 / 0
0 / 0
0
0
0
2
0
1
0
1
31
Thomas Heurtel
32:39
24
7 / 11
2 / 2
4 / 4
0
1
1
8
1
3
0
3
42
Bryant Dunston
26:31
13
3 / 6
0 / 0
7 / 8
4
5
9
1
0
2
1
3
Unics Kazan

99

#
Player
Min
Pts
2P
3P
FT
OR
DR
R
A
St
To
B
F
1
Johnson, Orlando
11:39
10
2 / 3
2 / 2
0 / 0
0
0
0
1
0
2
0
0
2
Antipov, Pavel
08:47
5
1 / 1
1 / 2
0 / 0
0
0
0
0
1
0
0
2
5
Langford, Keith
36:30
25
3 / 12
4 / 8
7 / 8
0
2
2
9
1
2
1
4
9
Parakhouski, Artsiom
22:33
20
8 / 9
0 / 0
4 / 4
7
3
10
0
1
1
2
1
10
Colom, Quino
27:50
11
3 / 4
1 / 3
2 / 4
2
3
5
8
0
1
0
0
13
Banic, Marko
11:07
6
3 / 3
0 / 0
0 / 0
0
1
1
0
1
0
0
2
18
Voronov, Evgeny
17:53
6
2 / 2
0 / 0
2 / 2
0
0
0
1
1
1
0
3
19
Karpukhin, Aleksandr
0
0
0 / 0
0 / 0
0 / 0
0
0
0
0
0
0
0
0
20
Panin, Vadim
23:42
6
0 / 0
2 / 5
0 / 0
0
0
0
0
0
0
0
3
21
Kaimakoglou, Kostas
22:32
6
3 / 5
0 / 3
0 / 0
0
3
3
1
0
1
0
3
22
Williams, Latavious
17:27
4
1 / 1
0 / 0
2 / 2
0
3
3
1
0
1
0
2
28
Tukmakov, Azat
0
0
0 / 0
0 / 0
0 / 0
0
0
0
0
0
0
0
0